The Positive Leader
Discover how to banish stress and negativity, rediscover your best self and become an inspirational leader - starting now.
How Energy and Happiness Fuel
Top-Performing Teams
Academic studies have shown that a positive mind-set results in 31% higher levels of productivity.*
The Positive Leader gives you a four-point approach to becoming a happier and more inspirational leader.
Discover and work to your strengths
Identify your mission and vision
Become a 'Chief Energy Officer'
Lead yourself and your team to happiness
Former Chairman of Microsoft Europe, Jan Mühlfeit, turns the lessons he's learnt from his years at the coalface of leadership into a 'how to' guide for busy managers. Based on cutting edge research, The Positive Leader reveals how to inspire your team, get results and do it in the happiest way possible. Discover how to banish stress and negativity, unlock your unique talents and bring out the best in others – starting now.
* 'Positive Intelligence', Shawn Anchor, Harvard Business Review, Jan/Feb 2012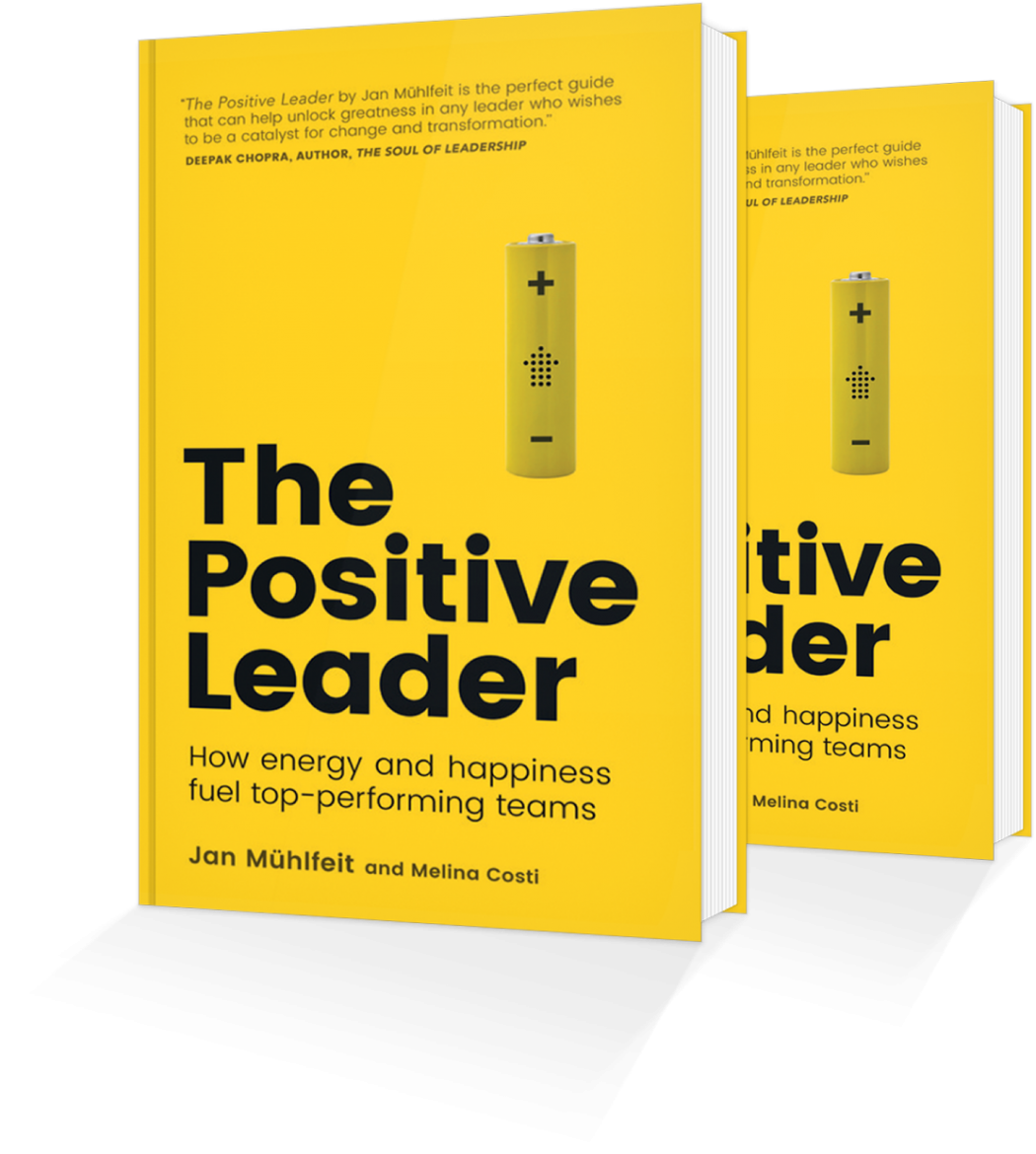 "I had the pleasure of working with Jan in various leadership roles at Microsoft. He is a high integrity leader who brings passion and thoughtfulness to the business. He has played an important role in Microsoft's innovation and growth throughout Europe."
Kevin Johnson - President and Chief Executive Officer at Starbucks, Former President Platforms Division at Microsoft
"The Positive Leader by Jan Mühlfeit is the perfect guide that can help unlock greatness in any leader who wishes to be a catalyst for change and transformation."
Deepak Chopra, Author, The Soul of Leadership
"The cornerstone of world-class success and happiness is self-awareness. This book addresses the most important decision you will ever make – to uncover who you are and offer your best to the world."
David Svoboda, Athlete, 2012 Olympic Champion in Modern Pentathlon
''In an era in which good leadership is scarce, this book, the product of years of experience by its author in leadership positions, is an excellent guide to young aspiring new leaders.''
Androulla Vassiliou, Former EU Commissioner for Education, Culture, Multilingualism and Youth
"Jan Mühlfeit was the star guest speaker to a weekend retreat for newly appointed partners at Dentons, the world's largest law firm. The retreat was focused specifically on high performance. Jan spoke with passion, humility and great humour to scores of the firm's senior leaders and rising talent from all regions of the globe, illustrating the messages of his bestseller The Positive Leader and drawing on the rich experience he gained as chairman of Microsoft Europe and as an accomplished sportsman and executive coach. He radiates energy and fulfilment and is a living testament to the highly insightful lessons shared in his book. Audience feedback was outstanding in its praise for Jan as a hugely inspiring and motivating speaker. People were clearly struck by the refreshing openness he demonstrated about his own life and by his determination that others should benefit from the great wisdom he has accumulated. Everyone left the room optimistic and enthusiastic about their new challenges."
Richard Macklin, Partner, Dentons